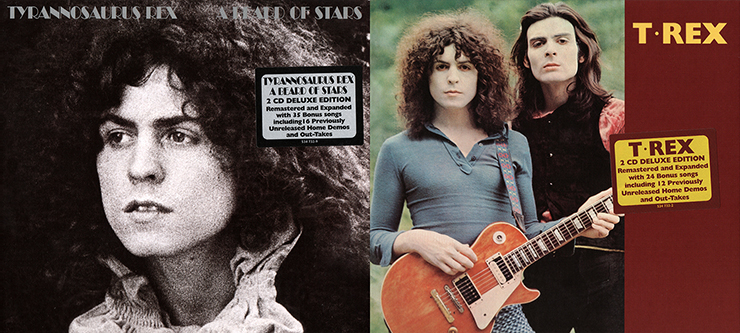 A Beard of Stars and T.Rex
The last Tyrannosaurus Rex Album - A Beard of Stars - and the first, eponymously named, album of the newly abbreviated T.Rex are very much a pair. Stylistically similar they both feature Marc Bolan and Mickey Finn as a duo; Bolan's previous musical collaborator, Steve Peregrin Took, having departed after a less than wildly successful 1969 US tour. Together they also mark a transition from the shimmering and whimsical, acoustic psychedelia of the first three Tyrannosaurus Rex albums, to the highly polished "Glam Rock" sound of Electric Warrior and The Slider; performed by an expanded, four piece T.Rex.
By the summer of 1969 multi coloured paisley and psychedelia was giving way to faded denim and hard rock/blues. To some extent, these albums reflect that shift: although gifted with more imagination than virtuosity, Marc Bolan's next step was not going to be the obvious one. All the same while they are still laced with Bolan's personal (and borrowed) mythology, most of the tracks on A Beard of Stars and T.Rex feature an electric guitar and are palpably Rock music. T.Rex also includes – for the first time - the string arrangements, scored by producer Tony Visconti, and the backing Vocals of Howard Kaylan and Mark Volman (of The Turtles fame); that would become an integral part of the classic T.Rex sound.
Deluxe Editions
As someone who has loved these albums for decades, I would give them both five stars each as LPs. However, I am actually reviewing these particular CD releases so different criteria will result in different scores.
With their range of two disc Deluxe Editions, Universal Music seems to be reworking through its (now very extensive) back catalogue; tagging on bonus discs to supplement, often already re-released and re-mastered, CDs. These bonus discs are of varying quality. In some instances, such as The Who Live at Leeds, they result in a package of outstanding quality where the bonus disc seems to have been simply missing from all previous releases. This is not the case here – and I speak as a Bolan fan.
Both A Beard of Stars and T.Rex, along with the previous three albums, were re-mastered and released back in 2004 as single disc "Expanded Editions". Both of those previous releases had a handful of extra tracks, following the original running order.
While 2004's Expanded A Beard of Stars oddly lacked the Single B-side (Find a Little Wood) sensibly included on the Deluxe Edition, it did include a wealth of fascinating alternative takes. These particular tracks are not present on the Deluxe Edition. There are a few other interesting, previously unreleased, alternative takes on it though. However the rest of the extra material comprises of a BBC session (which I already have) and 18 home demos which at best can be described as of historical interest only.
Both the Expanded and Deluxe version of T.Rex logically include the single Ride a White Swan and it's B-side, Eddie Cochran's Summertime Blues (which I think is better than The Who's version, by the way). Although the Deluxe version also has a clutch of BBC session tracks, which again I already have, the bulk of the extra material are good quality alternative takes. The other item of interest, included, is the original unaccompanied Children of Rarn Suite demo. Recorded in Tony Visconti's living room, as a sketch for a proposed concept album, it is far superior to Bolan's home demos. This long track, comprising of several songs, first appeared in 1978 on a memorial compilation; when Visconti had added backing tracks and various studio wizardry to give the piece a fuller, late Tyrannosaurus Rex / early T.Rex sound. I really loved that enhanced version and feel it is a shame that it was not included instead.
Although a diehard like me will always be prepared to pay slightly over the odds to hear stuff I have never heard before, I would resent it less if the material was compiled more logically. I would have been happier (and happier to pay a little bit more) if both albums had included all the contemporaneous A-sides and B-sides and all the alternative studio takes, in order for them to be truly definitive. The home demos could always be put out separately. I might even buy them too. Might.
However given that the same re-masters are now available at half the price, in their one disc incarnations, these two disc Deluxe Editions are not great value.
For the vast majority of music lovers, wanting to hear these albums, the cheaper Expanded Edition versions are the five star choices.
These Deluxe Editions do get an extra star each, than they other wise would have, for their great packaging and extensive notes by Bolan expert and biographer, Mark Paytress.
Tyrannosaurus Rex – A Beard of Stars: three stars out of five ***
T.Rex – T.Rex: four stars out of five ****