Music review of Blues Pills' debut album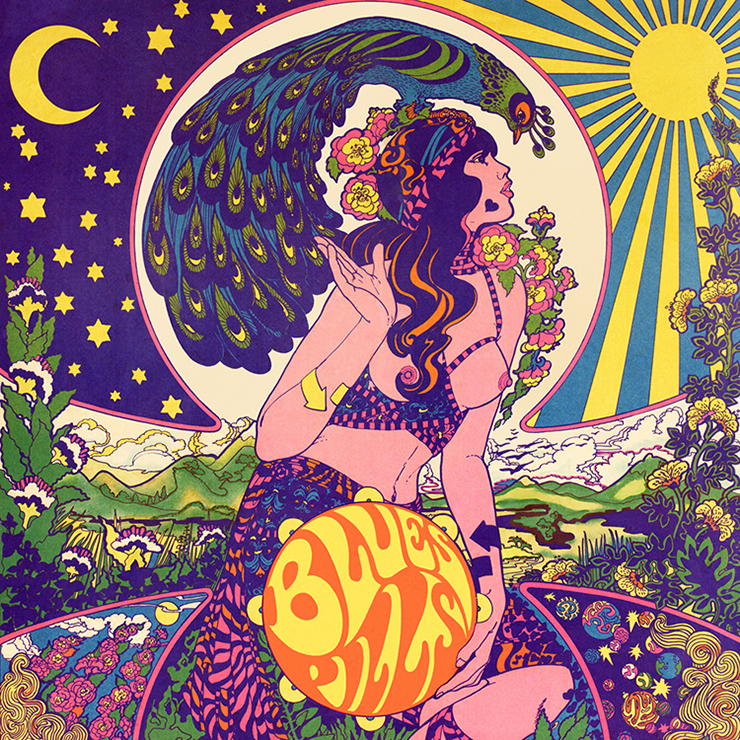 Marijke Koger-Dunham's cover design for Blues Pills
It must be around thirty years since I last purchased a newly released album, filed under the Heavy Metal section in HMV. Sure, I have replaced my old Led Zeppelin and Black Sabbath recordings with the shiny new re-mastered CDs - once I could find them for a fiver each. For me, Heavy Metal (or Heavy Rock/Blues) needs to be vintage to be enjoyable; to be digestible, even.
Released just over a fortnight ago, on the 25th July 2014, Blues Pills' eponymous debut album is a perfect slice of 1969/1970. Indeed, lead singer, Elin Larsson describes the band's output as "hard blues-rock with soulful vocals". Imagine Led Zeppelin or Cream fronted by Janice Joplin and you will have a reasonably good idea of the music. That said at times Larsson's vocals remind me more of the UK based African American singer, Marsha Hunt; which is no bad thing, at all.  The eerily authentic sound, of the Swedish outfit's first LP, is achieved by not only Blues Pills' passion for the genre and their considerable proficiency but also by an almost obsessive avoidance of computers and digital recording technology.
Some may question the point of such fidelity to a long past style but it simply thrills me that musicians, about as young as my own kids, are making this sound; some 45 years on from 1969 (when I was just six years old, by the way). Quite apart from my own idiosyncratic fondness for a counter-culture, half a generation before my own time; I think that such recreation and variation on older themes is part of a healthy diversity. People still lovingly play and enjoy music from many periods, so why not this too?
Complementing the music perfectly is the cover design, by Marijke Koger-Dunham. If her style looks familiar it is because she also created covers for The Move, The Hollies and most famously for The Incredible String Band; back in the late 1960s.
This LP is available as a .flac or .mp3 download, CD or vinyl double album.
Blues Pills - Blues Pills: a very easy five stars out of five *****
http://www.bluespills.com/index.php/en/