12/05/14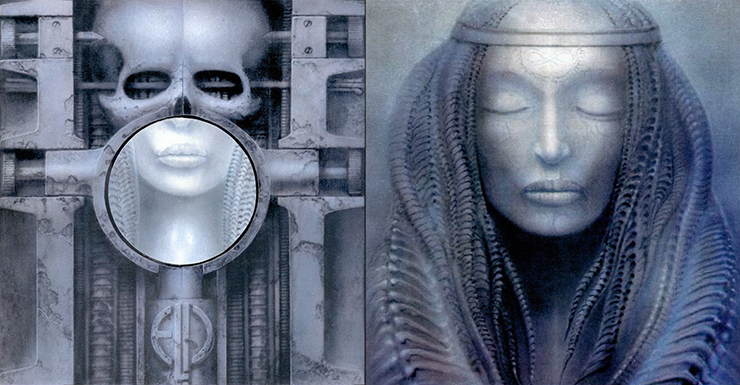 I was very saddened today to learn of the death of the Swiss artist H R Giger, at the age of 74, due to injuries sustained from a fall in his home.
Hans "Ruedi" Giger studied architecture and industrial design in Zurich, before going on to become a surrealist painter. Although childhood nightmares are cited as the inspiration for his work, it is clearly also influenced by architectural and industrial forms. Indeed it is the merging of those forms with the organic, that gives his art such a fascinating if disturbing quality.
His work first came to my attention on the cover of the Emerson Lake and Palmer LP, Brain Salad Surgery. It looked quite unlike anything I had ever seen before: it never having previously occurred to me, that something could be both grotesque and attractive at the same time. The artwork seemed to promise something a lot more than the vinyl actually delivered.
First made aware of the film Alien, when a friend told me that the guy who designed the ELP album cover was also behind this great science fiction movie, I went to see it straight away. My friend having done me the great service of refusing to tell me the plot, the film made a massive impact on me and I have followed the franchise ever since.
Giger was not given the credit due to him, for the following films in the series and none at all for the fourth film. However I understand that he worked closely with Ridley Scott on Prometheus: it shows. Although I did not think too much of the storyline, the look and feel of the prequel made for a very satisfying viewing experience. This, I believe, largely resulted from the depth of that collaboration.
In addition to his many other paintings, exhibitions and books; Giger was also a significant contributor to Alejandro Jodorowsky's proposed science fiction epic Dune. Based on the same Frank Herbert story as David Lynch's Dune; sadly this version was never made. However I understand you can see Giger's work for this project in Jodorowsky's Dune, a documentary made last year (2013). I will be checking this out.
The success of the Alien franchise will mean that variants of Giger's designs will continue to appear on screens for some time to come. None of them will be as good as the originals.