Hardware Review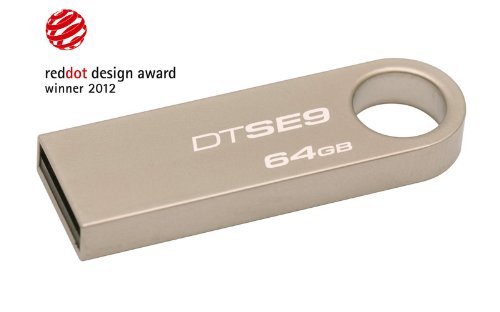 The Kingston 64GB USB DataTraveler SE9H Flash Drive with Metal Casing has dropped in price, from £42.00 to £20.71. I suspect that this is because Kingston is about to put out 128GB flash drives in the very near future, if the usual price dropping pattern is being followed.
I have been carrying around the 16GB version of this product, on my key ring, for about two years now. There are also three 8GB versions permanently plugged into the back of my base unit, making use of Windows 7's ReadyBoost facility. This is only possible because of their small size. At only five quid each I thought I would give ReadyBoost a try, having heard that this function now works much better than it did with the awful Windows Vista. I have found a noticeable, though not substantial, difference in performance. However as £15.00 upgrades go, this was a very good one.
Having been looking to upgrade to a 32GB USB flash drive when I saw this product, at the same price per GB; it was a bargain not to be missed.
I have accidentally put the 16GB drive through a wash cycle and after a slow three day dry out, it was fine: I have no reason to think that this new one will be any less robust. Not only are they tough and small but look great too. The only issue I see, with their design, is that they would be very easy to lose; were they not attached to something bigger or permanently plugged in.
Rated as a 64GB drive, its actual capacity is 57.6GB and although I have no benchmarking software I find it very quick. Handsome, tough, small and quick; I can see no reason to give the Kingston 64GB USB DataTraveler any less than
Five stars out of five *****