Sadly I missed the Bruce Pennington exhibition, in the autumn of 2013, in Brighton. I have been an admirer of his work since reading the Martian Series by Edgar Rice Burroughs, which were the very first science fiction books I ever read. Although his cover illustration for A Princess of Mars, the first book in the series, has two glaring errors (Green Martians have four arms and Banths have eight legs) the cover does convey the atmosphere of Burroughs' Barsoom (Mars) to an uncanny degree. Epic, unearthly and harsh, Bruce Pennington's distinctive style is ideally suited to the task. He got the head of the green Martian spot on, as well.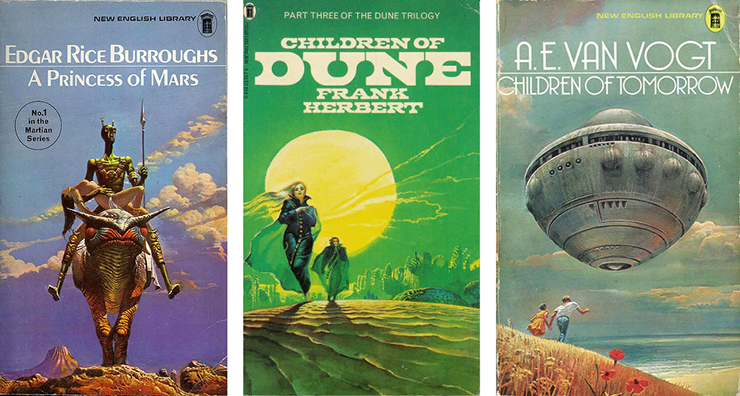 I read Frank Herbert's Dune Trilogy shortly after and Bruce Pennington's cover illustrations for these books imprinted a vision of the planet Arrakis in my mind, which has easily survived my seeing David Lynch's very different interpretation in the film version. Having said that, I recall that some of the architectural details in the film were quite Penningtonesque. I have never read A E Van Vogt's Children of Tomorrow but the cover for this book has got to be one of my all-time favourites. Very much a product of the 1960's, Pennington seems to have captured the spirit of science fiction from the previous decades. The looming, grimy and industrial looking spaceship contrasts wonderfully with the almost Elysian quality of the scene in the foreground. This accentuates a sense of otherness; though looking back, the couple in the corn field seem to be just as distant from us, from a lost golden age of Americana.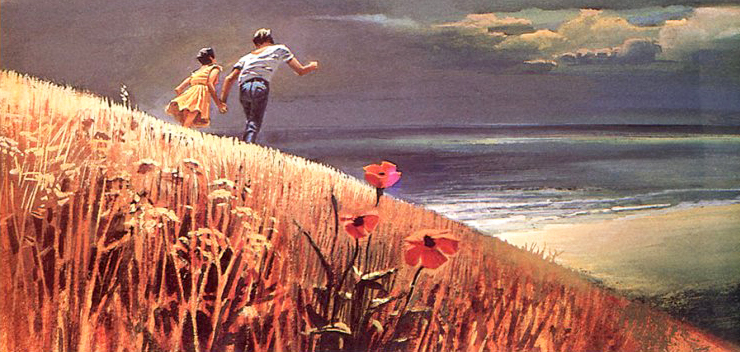 Born in Somerset in 1944, Bruce Pennington began his art education at the Beckenham School of Art and went on to attend Ravensborne School of Art in the early 1960s. Becoming disillusioned with "Fine Art" and believing he would have more fun as a commercial artist he set up as a freelance illustrator in 1967. His first book cover commission, in that year, was for Robert Heinlein's Stranger in a Strange Land (see below). Over the next seven years his career took off, undertaking many more covers for New English Library before being taken up by other publishing houses.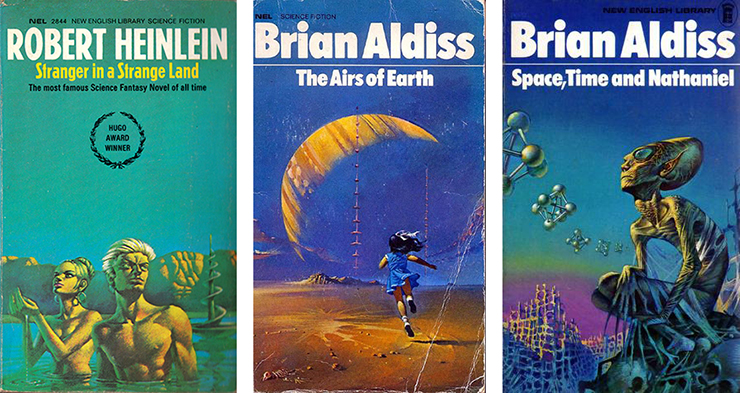 In 1974 Bruce Pennington achieved considerable fame when his cover design for Lost Worlds of 2001 was featured on the cover of the first issue of, the now legendary, Science Fiction Monthly. This British magazine was published between 1974 and 1976, its distinctive characteristic being its near broadsheet size. This format was ideal to showcase science fiction art, which would fold out into posters. The first issue also featured an interview with Pennington and was accompanied by further examples of his work and a picture of him in his studio. His contributions to Science Fiction Monthly were very popular and continued to appear in subsequent editions and featured on a large proportion of the covers, throughout the magazine's short history.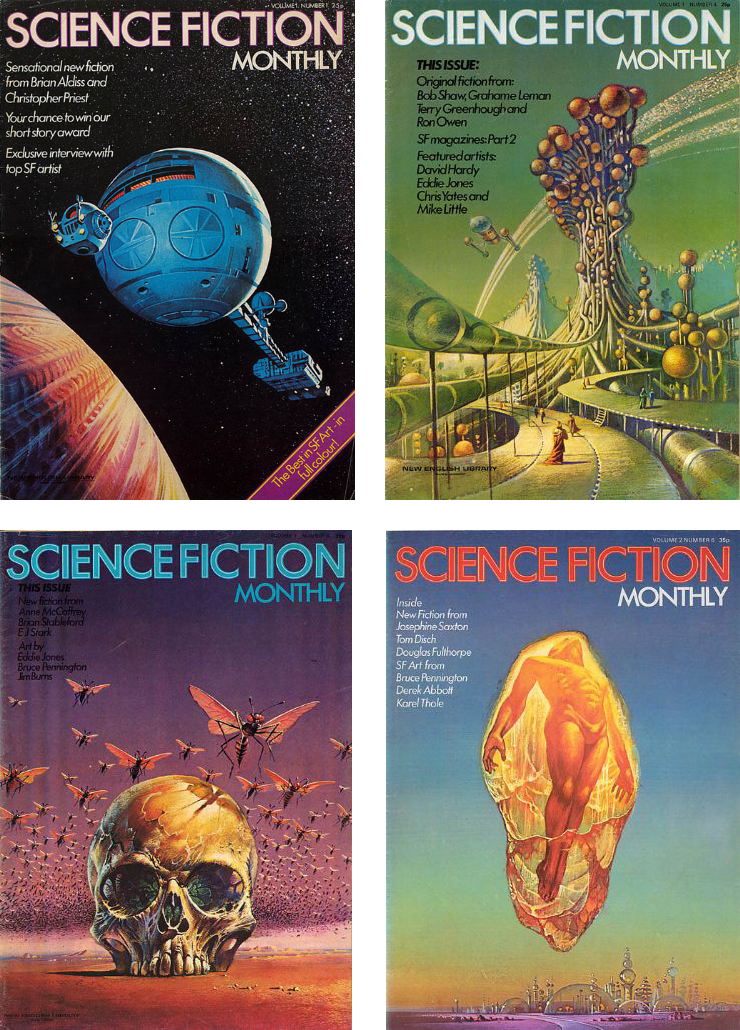 Beginning work on the first book of his artwork in 1975, Eschatus focussed on Pennington's own interpretations of Nostrodamus's prophesies and the Book of Revelation.  In the 1980s his  success continued with a number of cover art paintings for Gene Wolfe's series of fantasy novels. Indeed since then his commissions were increasingly for books of the fantasy genre. In 1991 another book of his painting was published, called Ultraterranium. Although his work had, by this time, seen a movement away from science fiction and towards fantasy art; this publication shows some of his most accomplished work. Although, personally, I prefer his earlier science fiction art; looking at The Rise of the Antichrist (below), I am stuck by just how good a painter Bruce Pennington is. Although the subject matter is mystical or fantastical rather than surreal, his later paintings remind me somewhat of Salvadore Dali - but in a really good way (I always preferred Dali's technique and style to his subject matter).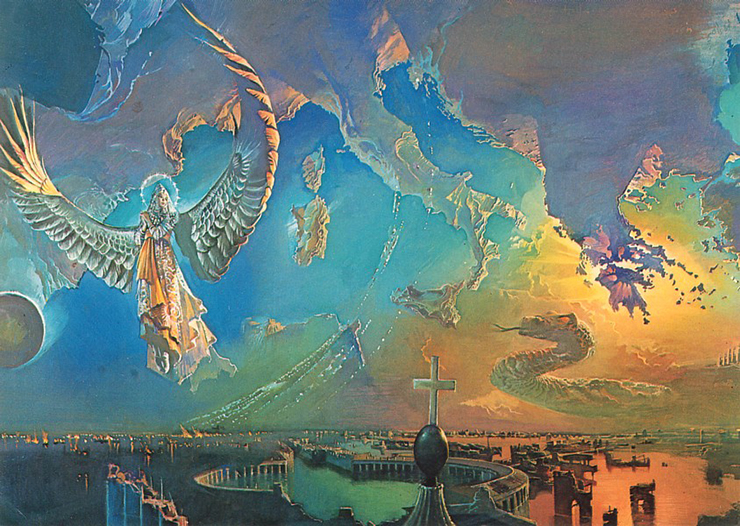 Now largely retired; his last book, Book of the Vampire, was a collaboration with writer Nigel Suckling and was published in 2008. However in 2012 the Paperback Fanatic magazine published a two volume retrospective of his cover art. This has already become very hard to find.
Since I first loved reading science fiction paperback books, I have always found that the enjoyment of the cover art is often an equal and parallel (or sometimes even totally separate) pleasure to the reading of the book. No other artist has given me more pleasure, over so many years, than has Bruce Pennington.
I strongly recommend a visit to the artist's website:
http://www.brucepennington.co.uk/index.htm