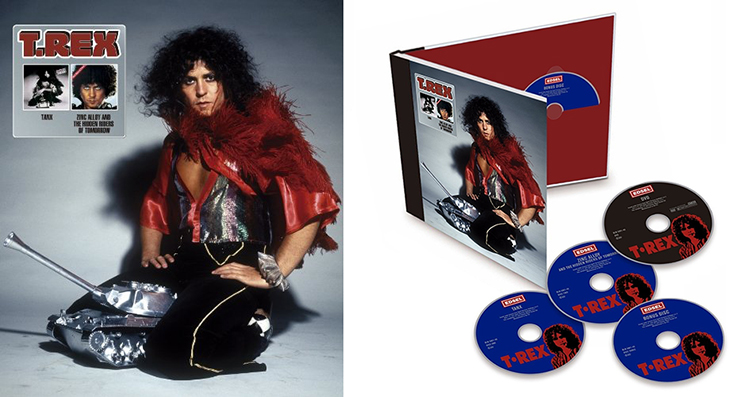 T.Rex: Tanx and Zinc Alloy 2014 Deluxe Edition
Although Marc Bolan failed to make the same commercial impact in the USA, as he did in the rest of the world, he clearly loved the place. Having long had an almost scholarly interest in vintage Rock'n'Roll and it's Delta Blues antecedents; he fell under the spell of  the contemporary black music sounds, he heard broadcast from specialist soul music radio stations, while in the States in 1971 and 1972. Recorded in the Chateau D'Herouville in France and finished in Britain, between February and December 1972; Tanx was released in in January 1973, over two years before David Bowie's soul Influenced Young Americans. Not that Tanx is an attempt at something like Bowie's "Plastic Soul"; having left "Glam Rock" behind (although the album's cover might have seemed to have suggested otherwise), Bolan and producer Tony Visconti created something far more complex.
Though still very much a T.Rex album and the last to include the full rhythm section of Mickey Finn, Steve Currie and Bill Legend; Tanx is sun-drenched with Soul influences and is the most richly textured work since 1969's Unicorn LP. It is tempting to talk of fading glory but at the time of recording, Bolan was still at the very height of his success and unaware of the difficult times before him. Rather there is a beguiling undercurrent of melancholy running throughout the album, beneath its upbeat confidence and joyful engagement with new sounds. Tony Visconti's musical arrangements and his mastery of the recording studio, some very clever (pre-digital) sound effects and the artful deployment of a Mellotron; give Tanx a unique and somewhat spellbinding atmosphere. However this serves only to enhance the sterling performances of all the musicians on the LP; regular band members, session musicians (including an amazing French pianist, known only as Bernard) and the backing singers.
The lack of hit singles on Tanx actually enhances the enjoyment of the work, as an entity of itself (they are there though, in this  package, on a separate CD). This LP is a grower: although it is not without its obvious and immediate charms, more are revealed on subsequent listening. Although I could not say which is my favourite Bolan album - that would depend on my mood at the time - no album is more rewarding on repeated plays. For this reason, I think I listen to this album more than any other in my collection.

T.Rex: Tanx - 1973 artwork, front rear and inner sleeve
 In 1973 Bolan had decided to re-brand himself and his band, Zinc Alloy and the Hidden Riders of Tomorrow: the first album to be put out, under this new moniker, was to be A Creamed Cage in August. In the event EMI, not without sound business reasons, insisted on crediting the LP to Marc Bolan & T.Rex. Consequently the world came to know the next album as Zinc Alloy and the Hidden Riders of Tomorrow or more commonly as just Zinc Alloy; although the former title was retained, somewhat gnomically, on the back of the cover.
Zinc Alloy, a strange and contradictory LP in many ways, was born at time of falling record sales and deteriorating relationships in both Bolan's personal and professional life. His obsessive yet ultimately futile drive, to find the same levels of adulation in the States as he had enjoyed in the UK; had resulted in him losing touch with those very fans, back home across the water. During the recording of the album, his relationship with his wife finally unraveled and drummer Bill Legend threw the towel in. Prior to its release Tony Visconti also left, tired of Bolan's ever increasing cocaine and cognac fueled megalomania. On the other hand Bolan was energised by his new relationship with soul singer Gloria Jones and his deepening fascination with African-American Soul and Funk music. Not only is Zinc Alloy enriched from these inspirations but also from a host of excellent musicians. These include former Pretty Things guitarist Jack Green, session drummer Paul Fenton, veteran virtuoso bass player Danny Thompson and of course Gloria Jones and her two fellow vocalists, Pat Hall and Stephanie Spruill.
There are a small number of Bolan fans that regard this as his best LP. I can understand why, though I am not one of them: certainly it is the most experimental T.Rex album. Although there are moments of familiarity; Zinc Alloy largely leaves the old T.Rex sound behind, for new territories, in its exploration of Soul and Funk and even - at moments - in its seeming anticipation of Punk (as early as 1972 Bolan had referred to himself as a cosmic punk). It is a very difficult record to describe: daring, expansive in both style and technique and at times over the top and even self obsessed, it both unique and oddly compelling. However those who are new to the music of Marc Bolan and T.Rex, should not start here but with the more obviously appealing Electric Warrior.

T.Rex: Zinc Alloy - 1974 artwork, front rear and inner gatefold
Comprising of four CDs and a DVD, contained in a lavishly illustrated book by Tony Visconti and Mark Paytress, this 2014 double release represented reasonable value at its initial retail price of £46. I imagine that if they had been sold separately, the sales figures of Tanx (arguably Bolan's last truly great LP) would have left those of Zinc Alloy far behind. Surely this is the reason that these two very different albums were bundled together, in one package.
I purchased this package from amazon.co.uk; before the ridiculous £26 price hike, to an eye watering £71.84. The best current deal I could find now is £59.99, at the BBC online shop (http://www.bbcshop.com/page/search?q=T.Rex): this is still £14 more than I paid for it.
Although Tanx is a simply wonderful album and Zinc Alloy is certainly not without its merits; both had (in my opinion) simply awful front cover designs on their first releases, in 1973 and 1974. Edsel seem to acknowledge this in their design for this release, relegating the original artwork to thumbnails in the top left corner of the front cover. Each album is presented as two discs: the first of each includes the original running order; the second of each contains the contemporary A and B sides (included as bonus tracks on the previous Edsel releases), along with various out-takes and demos. Most of these extra tracks are of quite limited interest to anyone, other than the most ardent fan.
For myself, the attraction of this release is the fact that it has been remastered by Tony Visconti and Ted Jensen: having previously heard the guys' work on the 40th anniversary edition of The Slider, I simply had to buy this. Edsel had digitally remastered these albums back in 1994, along with the rest of the Marc Bolan catalogue on EMI. The more recent Visconti / Jensen remasters, of both The Slider and these two albums here, are a definite and positive (if subtle) improvement. To one who has loved this music for over 45 years, that extra clarity is a delight.
I would have preferred the option to buy Tanx and Zinc Alloy separately, at different times; not being as eager to hear the latter, as I was the former. That said, the book format and its contents are really well thought out and informative. The DVD is a nice little extra too, though I was already familiar with most of the material on it. For these reasons I would have given this release a clear five stars, at the original price. However at £59.99, it gets one less star.
Four stars out of five ****