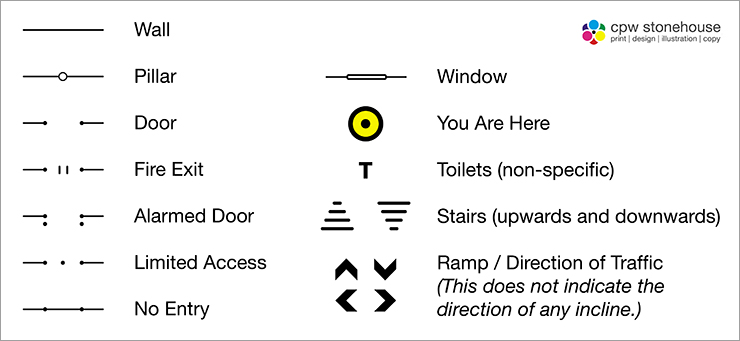 This is a scheme of tactile floor plan symbols, for use in information panels; for the blind and visually impaired. The colour black represents raised elements, so that this would be inverted on machined metal panels; where the raised elements are white metal and the background is either black or a dark colour.
Some of the the elements here, such as the chevrons and the stairway symbols, have long been in the public domain and in common usage: the "You Are Here" and the non specific toilet symbols have been used for for some years by myself and Acuity Design. More recently I developed the various door symbols, when Acuity Design was commissioned to create a tactile floor plan of The Keep (the national archive of the Mass Observation Project); where it was considered necessary to depict the status of each door in the building, for clarity.
Since then, this scheme has also been used in the Imperial War Museum and it is my hope that these symbols will, together, eventually become a de facto standard in public buildings in the UK. To this end I am putting this scheme, into the public domain; though I reserve the right to identify myself as the author, of those symbols I did create.
The download below is a vector PDF. The elements are at the correct size.
TactileFloorPlanSymbols.pdf  (Right click to save)
I will soon be posting a scheme of tactile textures to represent various colours.