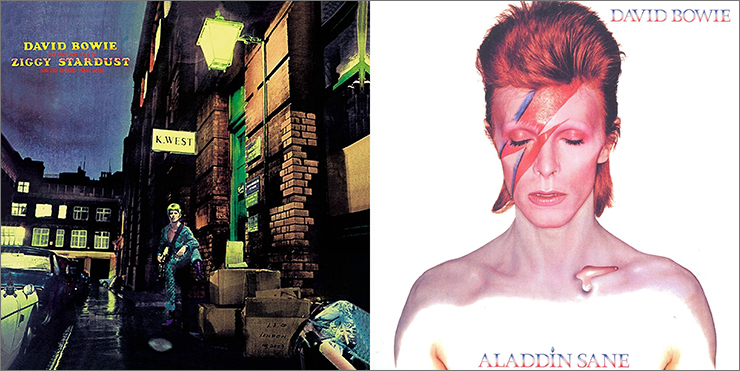 I am reviewing these two albums now because I have noticed that they have both recently dropped in price: this re-mastered version of Ziggy Stardust and the Spiders from Mars can be found for just £7.26: while the similar version of Aladdin Sane (released just last year) is a little higher at £10.26. Purchased together, they are now something like half the price of their cost on release.
There is no shortage of eloquent praise for these two truly great David Bowie albums, so I will focus on these particular releases in this review. Nevertheless, it should be said that not only are these seminal works significant cultural artefacts of the 20th Century; they are also great fun and should be in the music collection of anyone who is not inclined to avoid the whole genre of "Rock and Pop", in its entirety.
Prior to their re-mastering in 2009, The Beatles CDs sounded brittle and tinny. Originally transposed onto the then new format, digital audio technology moved a long way in the intervening 22 years. The improvement was stunning; whether you were re-discovering the excitement you last felt conveyed by vinyl or were hearing the depth, detail, warmth and clarity of the recordings for the first time. The David Bowie RCA catalogue, however, benefited from re-mastering back in 1999. The differences between those versions and these two releases, while not quite so substantial, are very worthwhile. Indeed, they were enough for me to shell out the full price for them and enjoy the improvement on a mid-range hi-fi system; costing me about £2K, some twenty years ago and recently improved only by an new DAC (Digital to Analogue Converter). Both re-masters were done by the original engineer, Ray Staff. I understand that Ken Scott, the original producer, was also involved with the Ziggy Stardust release: I am not sure whether he was brought in for Aladdin Sane, though. All the same, both these releases are simply the best versions of these two albums, available on CD.
An additional pleasure to the improved detail of the sound, is the well-conceived packaging. Both releases are contained in equally well-made cardboard gatefold covers with inner sleeves replicating the original LP designs. The RCA style orange labels, on the CDs, complete this sense of the products as facsimiles of the LPs.
The only minor criticism I have is that Aladdin Sane lacks the 7" single versions of The Jean Jeanie and Time, that were included on a previous CD release of the album. As I don't know how to do half an asterisk , it will have to lose a whole "star".
David Bowie – Ziggy Stardust and the Spiders from Mars - 40th Anniversary Edition: five stars out of five *****
David Bowie – Aladdin Sane - 40th Anniversary Edition: four stars out of five ****
P.S. - I am still waiting and hoping for a 40th anniversary edition of Diamond Dogs.